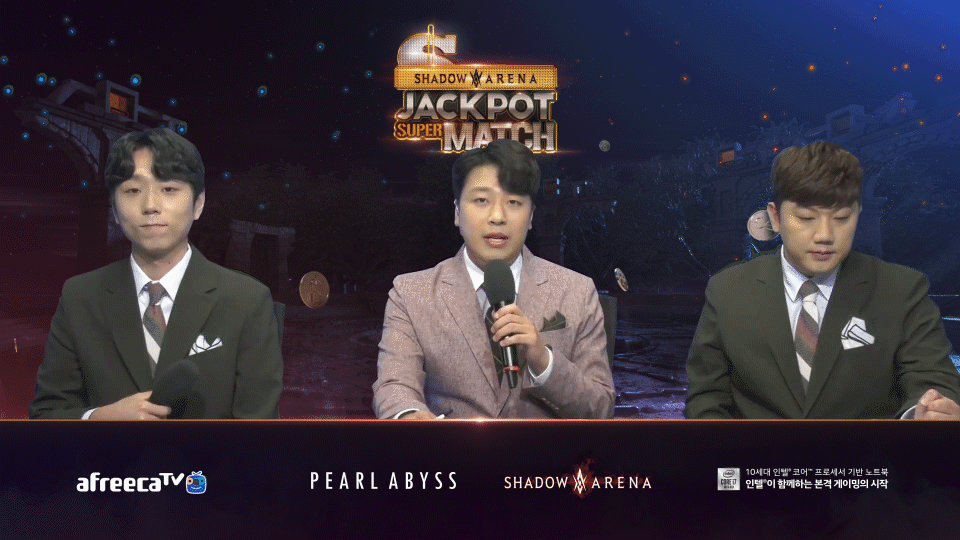 [PEARLABYSS] SHADOWARENA JACKPOT SUPER MATCH TITLE
Client :

PEARLABYSS


Project Manager :

AFREECA TV


Creative Director:

 Dae Hong Kim


Title Design: 

Dae Hong Kim,  Se Yoon Lee


2D Broadcast Design:

 Dae Hong Kim, Si Hwan Yoon


LED Wall Design: 

Dae Hong Kim, Si Hwan Yoon
The Shadow Arena Jackpot Super Match is sponsored by Intel. It's a game competition that was broadcast live on Afreeca TV. Leo Studios is responsible for oap production, African TV, We successfully conducted the competition through collaboration.
섀도우 아레나 잭팟 슈퍼매치는 인텔이 후원하며 아프리카tv를 통해 생중계한 게임 대회입니다. 
레오 스튜디오에서는 oap 제작을 맡아 아프리카tv와 협업을 통해 성공적으로 대회를 진행시켰습니다
Copyrightⓒ 2020 Leostudio All right Reserved.